From the top of the organization to the bottom, ICO has one consistent principle in dealing with our customers, vendors, and employees — treat people the way we want to be treated.
This simple principle applies to all aspects of employment at ICO, including:
Compensation
Work Schedule and Accommodations
Work Environment
Our Reputation
We strive to be the best at everything we do! We work hard at finding employees motivated to learn, training them to be the best in the industry, and empowering them to deliver exceptional results to our customers.
Our employees know that we live by one simple motto — treat every employee the way that we would want to be treated. As a result, our turnover rate is very low and we have lots of employees who plan on staying with ICO until they retire.
We strive to be the best employer in the state by selecting people with a desire to learn and perform, mentoring them with some of the best professionals in the industry, and empowering them to be their best. Come find out what makes ICO the best employer.
Benefits
As part of our commitment to be a premier employer, ICO offers a full benefit package.
ICO offers the following benefits to our employees:
Health Insurance
401k Retirement Plan
Profit Sharing
Paid Time Off (Vacation)
Paid Holidays
Education Reimbursement
Uniforms
Tool Discounts
In addition, we offer reimbursements for the following equipment:
Steel-Toed Boots
Prescription Safety Glasses
We equip our employees with all PPE to assure that the work can be performed safely, including:
Hard Hats & Safety Glasses
Arc Flash & Shock Hazard PPE
Fall Arrest Harnesses & Tie-Off Equipment
Lock-Out / Tag-Out Equipment
Some waiting periods apply for benefits. Full details of our benefits package are outlined in our employee manual.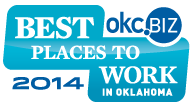 Industrial Controls of Oklahoma was recently named One of the Best Places to Work in Oklahoma by OKC.biz.
Training
At ICO, we are committed to employee training to help make our employees the best trained in the industry. In 2014, we launched a unified training curriculum we call ICO University.
Our training program includes:
An approved Electrical Apprentice Training Program offered in conjunction with Associated Builders and Contractors (ABC)
OSHA 10-Hour Training for all Employees
OSHA 30-Hour Training for Supervisors
CPR / First Aid Responder Training
Aerial Lift Training
Fork Lift Training
Project Management / Estimator Training
Team Building / Management Training
Our College Tuition program offers reimbursements to employees who take the initiative to further their education by taking a variety of approved college level classes.